Let's talk about some of the "longer" videos I have watched on YouTube of late.
Ironically, while I am a YouTube content creator who tends to live stream and create rather long videos of more than an hour each, I seldom spend the same amount of time watching YouTube videos. I could argue that if I do, I would have no time to create content.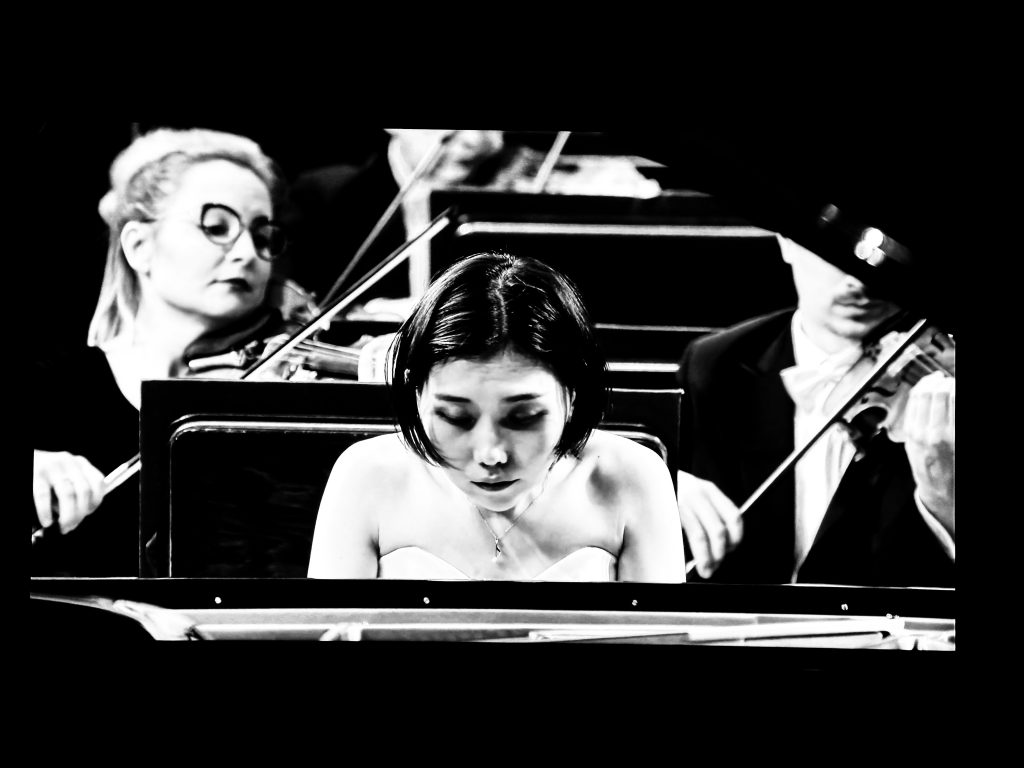 I have watched the 45 minutes long video of a Chopin Competition on YouTube. It was a Concerto in E minor, Op. 11. To be frank, I am more familiar with Beethoven and Mozart. I enjoy listening to a piano concerto – or violin concerto for that matter. But my head just doesn't seem to be able to wrap around Chopin.
Aimi Kobayashi is a Japanese pianist with a small frame. I observed that perhaps as a ritual, she would arrange her pendant at the beginning of each movement. To ensure that the musical note was facing the front. She has this very intense look while playing the piano. Almost uncomfortable to watch. I felt as though my face cringed watching her playing the piano. Chopin doesn't talk to me. Listening to his music through Aimi, Op. 11 must have been a very painful piece of music.
I can't really tell how great the performance was. Reading some of the comments, Aimi has taken the liberty to slow down the music and interpret it the way she wanted to tell her story (slow pain, perhaps). Some commented that this must have put her in the fourth position rather than higher. Again, I am no expert. I was used to having different Swan Lake CDs and each has its own pace. She must have had such high confidence whereby she didn't even need the musical scores in front of her. That was the very first thing I noticed when she sat in front of the piano, even before she performed. I often visualize myself in the performer's shoes when I watch a live recording.
Another video I watched was titled "Russell Peters | Notorious Full Special" (70 mins). It was recorded in Australia in 2013 in front of 14,000 fans. What a huge turnout! These days, I love standup comedies. These comedians have special skills. Some like Russell Peters are able to interact with the crowd and crack jokes on the fly.
But that's not what I am trying to say in this post. In that video, Russell made some jokes about tattoos (and how people would regret having them). This evening, it was raining. Not too heavy to the point whereby I couldn't go out. But it wasn't too light either. Yet, I saw many people walking outdoors without umbrellas.
When I arrived at the nearest food center, I ordered QQ la mien set that came with four dumplings and a small bowl of soup. Somehow, on a rainy day, I craved that.
Opposite me was a Chinese man of a very large size. His thigh was as big if not bigger than my waist. He wore no expression eating his chicken chop and chips quietly. Underneath his right forearm, there were very large English words saying "Good Boy". I recalled Russell Peters's video on tattoos and I was quietly giggling inside. As I was wondering why a Chinese man of his size would tattoo "Good Boy" on his arm, I saw more English words on his left forearm. I couldn't see very clearly at first. But I could guess that must be "Bad Boy".
What a bizarre pair of tattoos. Maybe he is forever torn between good and evil.
Shortly after I have started eating my dinner, I saw this girl who worked at the stall nearby. She was also of a larger frame compared to her other colleague although nothing compared to Good-boy-bad-boy. She kept on hitting his arm hard. I mean, that looked like real punches. Good-boy-bad-boy was emotionlessly still. The girl seemed to be playful with him. Hitting him. Touching his phone (he was watching something I would presume). They could be …
Siblings?
And then I recalled, this Good-boy-bad-boy is actually the chef at the mixed rice stall! I vividly remember how impressed I was when I saw him cook the dishes. When I cook Chinese dishes, I cook for 1 or 2 potions. When he cooks, he cooks for I reckon 50 to 100 potions at a time. That is some mad skill and strength. He did it with such dexterity and speed. It was fun to watch.
Looking back, I don't think that they are siblings. Maybe the girl likes to bully him. Maybe he is a teddy bear at heart despite his size and his good-boy-bad-boy tattoos.